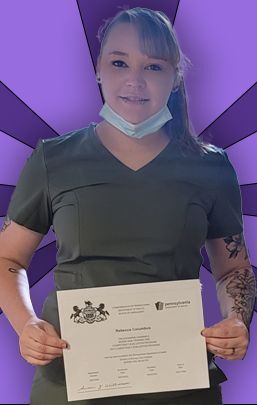 "I was always interested in working in healthcare, but I wasn't sure where to start," Becca Columbus remembered. But Becca's calling as a caretaker found its way to her.   
The door opened for Becca a few years ago when her former boss came into the restaurant where she worked as a Server. By the end of her meal, she offered Becca a job as an Activities Aide in the long-term care facility where she worked. She saw a natural caretaker in Becca, and knew she would succeed in long-term care. Becca was excited at the opportunity – it was the start of her path into healthcare.
"I loved it – helping people and being in that environment was really fulfilling. Then the pandemic hit, and it hit everyone really hard.  It wasn't fair to the residents or the staff. I saw what the CNAs did, how short staffed we were, and what they were going through. I wanted to help."
The Training and Education Fund partnered with Becca's facility, The Bethlen Home, to offer an innovative Pathway to CNA Training Program. This program was designed for Temporary Nurse Aides hired under a COVID-19 emergency declaration order to receive accessible, supplemental training for the CNA licensure exam. To prepare our students, we use a blend of engaging, online curriculum; one-on-one instruction with a Nurse Educator; and an in-person Skills Lab. Our students achieve an average test score of 94% - up from 63% before entering the program.
The Director of Nursing approached Becca about changing roles to become a TNA and enrolling in our training program. She readily agreed, but she was also nervous about the change.
"I was worried when I first started. Honestly, I was afraid of failing. But the training was free and I had nothing to lose. I set aside a weekend and I completed the entire online course. There was a lot of information that I was able to use and implement right away. The check-ins with [Nurse Educator] Michelle were amazing. She made sure I really understood the material and prepared me for the test."
Becca passed her CNA exam in April, which she describes as a huge confidence boost.
"You have to take advantage of these opportunities when they are presented to you. It takes discipline to be a CNA, but if you are interested in this work, go for it. There is no better feeling then someone looking at you and knowing they feel safe with you."
Becca plans to settle into her role and enjoy her newly acquired skills. "Eventually I'll pursue an LPN or RN bridge program, but I really like this work and I want to do this for a while."
It seems Becca is exactly where she should be.