Make a Difference, Make a Living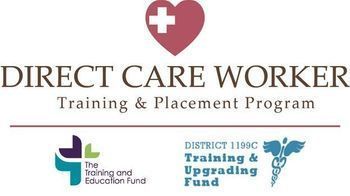 A New Path Starts Here
Get FREE Nurse Assistant training, support, and placement opportunities with our Direct Care Worker Program! 
The Training and Education Fund is proud partners with the PA Department of Labor and Industry and the 1199C Training and Upgrading Fund in a grant effort to create a stable and enticing career pathway for new Nurse Assistants into the long-term care industry. If you are interested in a rewarding new career, or just want to learn more about our program, fill out the interest form at the bottom of this page.
At this time, training may not be available in all regions of Pennsylvania. 
Watch our interview with KDKA CBS 2 in Pittsburgh
---
Recruitment Training and Support
Our career coaches will set you up with everything you need to train and learn successfully. Learn theory, processes, and content needed to become a Nurse Assistant. Apply and practice your knowledge in hands-on situations. We will also connect you with resources that may provide support services like child care, transportation, and more.
Job Placement
We partnered with long-term residential care facilities and nursing homes to provide you a pathway to achieve gainful employment opportunities upon successful completion of a Nurse Assistant training program. 
Continuing Education
We believe in your potential and will continue to support you long after you complete your training and begin your new career pathway.