Knowledge is Power!
The SEIU Healthcare PA Training and Education Fund is an education benefit of the SEIU Healthcare PA union that empowers our participants to improve their lives and move forward in their careers. Our programs are designed to connect with their goals and dreams, to support high quality care and services, and to be ready to face changes in the healthcare industry. 
Your Benefits, Your Way
Are your career goals set in stone, or keeping your options open? Wherever you are on your journey, you've got benefits. Choose a path below to start exploring!
---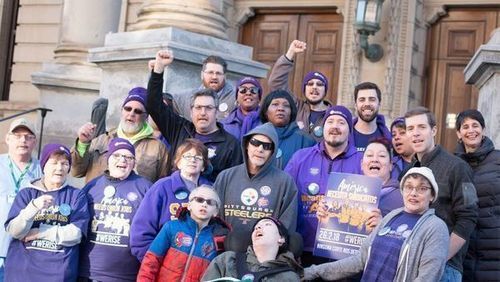 Who Is Eligible for the SEIU HCPA Training Benefits?
To be eligible for these benefits, you must work in an SEIU Healthcare PA union position at a participating employer. The SEIU HCPA Training Benefits are bargained for in your union contract, and all programs are FREE for participants. 
Don't Have The SEIU HCPA Training Benefits? 
Call SEIU Healthcare PA Member Resource center at 1-800-252-3894 or talk with your union organizer about negotiating this benefit with your employer. Visit the SEIU website for more information about your benefits.
If you are interested in becoming a CNA or healthcare worker within a union bargained position so that you can receive The SEIU HCPA Training Benefits, fill out the Participant Interest Form and tell us about your goals!
Have it, Love it?
Have your  SEIU HCPA Training Benefits made a great impact on your life? Become a TEF Champion to help us spread the word!
---
Use Your Benefits to Your Benefit
Know what you want? Use your benefits when you need them; on your time, in your way.  Below is a comprehensive list of our benefits available to eligible participants. Fill out our Participant Interest Form to get started and connect with your Program Specialist.
I Want to Know More!
Fill out the interest form below to inquire, enroll, or gain access to your benefits.